It's already Tuesday again?? Holy WAH! Where does the time go???
As with the past few weeks, I am participating in Night Owl Crafting's "Hoo Are You Tuesday"! Click on over to check out and get to know more of your fellow bloggers!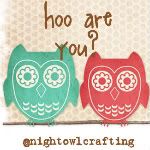 1. How Many Times per year do you get your hair cut?
I am TERRIBLE (truly) about getting my hair cut more than once a year...sad, I know. I'm hoping now that I'm going with side bangs, and have my hair dyed, I will be FORCED to at least get a trim every couple of months. We'll see though...
2. Where is the worst palce to be stuck waiting?
In the OB/GYN office where they bring you back to the exam room, have you "gown up", and then leaving you sitting on a table for twenty minutes waiting for your doctor. I flippin' HATE that! LOL!
3. What are you favorite pizza toppings?
Mmm...I love pizza! We're having homemade pizza tonight in fact! My famous
Buffalo Chicken
pizza is one of my faves to make at home. Out and about, I prefer ham & pineapple. YUMMY!
4. What is your favorite thing about where you live?

It's a low-crime area which is great for raising the kiddos.
5. What's your favorite Fruit? Veggie?
Hmm...I think my favorite fruit would be cherries!! So yummy! I love making cherry pie in the summer! My favorite veggie is probably tomato. (Or wait...is that a fruit? If it's a fruit, then I'll go with...ummm...probably peas. Mmm!)
That's what I got...and now you know!