Not much makes my kids happier than DONUTS for breakfast. But seriously...who feels like getting up and running to the store bright and early? Not this girl!
Thus, you can understand my excitement when I came across this SUPER easy recipe for homemade donuts! My kids were STOKED (as was momma...not gonna lie!)
We paired ours with a Danimals Crush Cup yogurt and breakfast was complete!
1. Open a can of southern style biscuits. (Do NOT use the "flaky" kind with the layers!) I just used a generic brand.
2. Using a cap from a 2 liter bottle (or any other small round something you may have) cut a hole out of the middle of each donut. Don't throw that extra dough away!! Fry it up for donut holes! YUMMY!
3. Heat oil in a skillet until "hot enough" (LOL...how helpful am I right now? Sorry!) Cook donuts on one side for about a minute.
4. Flip and cook on the other side about a minute. (I slightly undercooked mine on accident so they were doughy in the middle...icky.)
5. Remove from oil and place on paper towel. Blot to remove oil.
6. While still warm, dredge in a plate of sugar. (Next time we're going to try homemade icing and sprinkles!!)
7. FEAST!
(Edited to add: For the record, my wall isn't filthy! That's spots on the camera lens. I forgot to touch them up in this photo! LOL!)
Try it out! You won't be sorry...TRUST me!!
Linking up...blog hopping!!
Here, too!!
And HERE!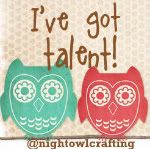 Got stuff to do?? Check out
10 in 10
!