Why is it that I only make time to post on Tuesdays?!?!? I've GOT to do something about that! SO many recipes to share...a couple projects...my first sewing projects (total flop by the way...LOL!) Seriously...so much to share...I've just got to make the time to share it!
I will work on it...promise.
ANYWHO...it's "Hoo Are You" Tuesday again, friends! Link it up!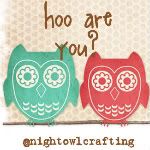 1. Name 5 things you are grateful for!Family
(including one sweet surprise, chubby cheeked baby we weren't expecting, but who has taken our family to an awesome new level!!)
Real Friends
(which, as I get older I realize are few and far between)
Clients
(it's been a good year...working my way towards SAHM...someday!!)
Paychecks
(we went awhile without one when I was off work...getting back to paychecks is a good, good thing.)
Diet Coke
(is an explanation even necessary? I think not...)
2. What is you favorite dish at Thanksgiving dinner?
Mashed potatoes and gravy...which is silly because we can (and do) have those any time of year...but they're still my fave.
3. Do you have any family traditions for Thanksgiving?
Not really...we just do the same thing every year. Lunch at my grandmas at noon, and dinner with Adam's family when the hunters come in at dark. Well...I take that back. We DO have a tradition...we spend Thanksgiving with family, and then the day after I make an entire turkey dinner at our house and we spend the day with friends! :)
4. Are you staying home or traveling for Thanksgiving?
We stay in town.
5. What else do you do on Thanksgiving day besides eat?
Watch FOOTBALL of course!! And sleep. I definitely intend to nap at some point. :)
And on an unrelated note...bronchitis remedies anyone??? I'm pretty sure I've got it. My chest hurts when I breathe and burns when I cough. Yucky. Any home remedies? Anyone? Bueller? Bueller? Gracias amigos.
xoxo