Woot...It's HOO ARE YOU time at Night Owl Crafting! Love this...love getting to know my fellow bloggers a little bit better! So head on over there and link up, party people!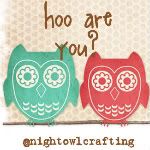 1. Are you fond of cooking?
YES...I love to cook! (Well...I love to cook when it's not my job. I have down the whole cooking as a profession thing and it made me hate cooking both at work and at home. Yucko.) I absolutely love trying out new recipes, and tweaking old recipes to my liking. Love making dinner every night for my family and trying fun new breakfasts with the kiddos on the weekends. LOVE making dips and appetizers for a bunch of friends when they come over to watch football or Supercross. Love to grill in the summer...yummmmmm. So yes, not only am I "fond of" it...I LOVE it!
2. What kind of food do you prefer eating when you are out?
MEXICAN! I am one quesadilla lovin' Momma!!
3. Which do you prefer, sweet or salty?
Oh, hands down, salty. I could live of popcorn and chips...although I'm starting BIGGEST LOSER next week at work (cannot WAIT!) and popcorn and chips are going to be a thing of the past. :(
4. Where is the last place you ate out at?
A local pizza place here called Brothers Three...we went on New Year's Eve for the second year in a row and it was delish, as usual!! We always split our pizzas half an half, and got two smalls...so we got half pepperoni with half Mexican pizza (the man's faves) and I got half Hawaiian with half Bacon Cheeseburger! SO amazing!
5. What's for dinner tonight?
I don't know yet, actually...the weeks the kids are at their dad's we just kind of wing it. I'm going to run home at lunch and probably throw some chicken in the crock pot.
Seriously now, get over to
Night Owl Crafting
...link it up folks!
xoxo