Ahhh, HOO ARE YOU Tuesday...how I have MISSED you!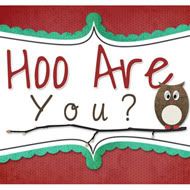 1. What are a couple of your favorite green foods?
Spinach...broccoli...peas...hmmm...Oooo...LIMES! I LOOOOOOVE me some LIMES!
2. Do you decorate for St. Patrick's Day?
Not even a little bit.
3. Do you have Irish in you?
Nope...but every St. Patty's day at least three people ask me because I've got red hair and fair skin.
4. Do you celebrate St. Patrick's Day?
Never have...never tried a green beer, never made corned beef & cabbage. Honestly...I don't get the appeal. LOL!
5.Use one word that represents each letter in the word LUCK in your life!
L-Love
U-Unique
C-Creative
K-Kiddos (lots and lots of kiddos!)
And on that note, I have to go rock a sad, sick baby...never a dull moment.